Hello again PLCF!
It is great, as always to be here!
I am going to get straight to the point today, and tell you about all of the wonderful things happening back here behind the scenes.
Today begins with the removal of the "Delete Post" (

) button that was nestled in-between the "Edit Post" and the "Report Post" buttons. The removal of this feature is yet another way that we will help serve you better.
After doing some research on Google, I have learned of forums where their are users who will help, and after their help is no longer needed, they will delete the post, and deny ever making it. This is annoying because that post may have been helpful to someone else. The removal of the "Delete Post" button will help to ensure that we do not happen to get a user who behaves like this. While users will be able to edit posts, they won't be able to delete them. If you sometime make a post that you wish to remove, just go click on "Edit", and delete everything in the post, and type something like, "This post has been removed by it's creator."
Another change is the addition of the ranks the correspond to different user ranks. Each of these ranks has its own image that corresponds to it. Below is a table that matches each rank to its image.
| | |
| --- | --- |
| Rank | Rank Image |
| Administrator | |
| Moderator | |
| Forum Security | |
| Chatbox Administrator | |
| PLCF Member | |
| Banned User | |
As always, users that are in more than one group will have their most dominant group listed as their rank. In your post profile, your rank is listed under username (or avatar if you have one). In your actual profile, it is also located under your username (or avatar if you have one).
Below is a screen capture of my post profile...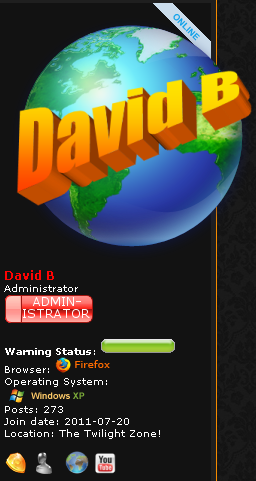 ...and now my profile.
The only exception to the rule is that even regular users have a rank, but not a group. Every other rank has a group, and regular users are the only exception to the rule.
Administrator





Posts

: 618


Join date

: 2011-07-20


Location

: The Twilight Zone!




---
Permissions in this forum:
You
cannot
reply to topics in this forum